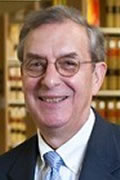 Lawrence A. Frolik
Of Counsel
Education
1971-72 Harvard Law School LL.M. cum laude
1966-69 Harvard Law School J.D. cum laude
1962-66 University of Nebraska B.A. with Distinction
Majors: English and History
Awards: Phi Beta Kappa
Admitted
Pennsylvania, 1976
Massachusetts, 1973
New York, 1970
United States Tax Court, 1974
United States Third Circuit Court of Appeals, 1977
Distinctions
1996 University of Pittsburgh Law School Excellence in Teaching Award
1993 University of Nebraska Outstanding Alumni Award
Community Involvement
Editor-in-Chief, NAELA Law Journal (2006 – 2008)
Fellow, TIAA-CREF Institute
AARP Financial Management Group Volunteer Representative (2007 -2008)
American Bar Association Committee on Bioethics
Past – Chair ABA Torts and Insurance Practice
Section Seniors Issue Committee (2002-2003)
Past Co-Chair ABA Tort Trial and Insurance Practice Section Medicine and Law Committee (2000-2001)
Editorial Board Member, Tort Trial and Insurance Practice Law Journal
Board of Directors, Kendal Corporation
Member, Pennsylvania AARP Executive Council
Board of Advisors, Journal of Victimization of the Elderly & Disabled
Board of Advisors, Elders Advisor
Academic Advisor, The Borchard Foundation Center on Law & Aging (1999 – 2004)
Member, Pennsylvania Council on Aging (appointed by Governor Rendell)
Member, Allegheny Children, Family and Youth Services Advisory Committee
Chair, Pennsylvania Bar Association Elder Law Section (2001- 2003)
Director, Gruter Institute Teaching Conference on Law, Biology & Human Behavior, Squaw Valley, California (1996 2000)
Executive Committee Gruter Institute for Law and Behavioral Research (1996 – 2002)
Gruter Institute Research Fellow, Gruter Institute for Law and Behavioral Research
Fellow, American Bar Foundation
Academic Fellow American College of Trust and Estate Counsel
University of Pittsburgh Task Force on Healthy Aging
Chair, ABA Section on Real Property, Probate and Trust Law; Committee on Special Problems of Guardians and Conservators (1992 96)
Congressional Appointed Delegate, 1995 White House Conference on Aging
Board of Directors, Allegheny County Association for Retarded Citizens (1991-93)
Chair, Pennsylvania Protection and Advocacy Network (1980-81)
President, Aging and the Law Section, Association of American Law Professors (1993- 94)
Member, University of Pittsburgh Benedum Geriatrics Group
Member, Allegheny County Aging Task Force
Member, Allegheny County United Way Senior Connection
Member, Pennsylvania Attorney Generals Task Force on Elder Abuse
Member, National Academy of Elder Law Attorneys
Member, ABA Section on Real Property, Probate and Trust Law
Member, Allegheny County Bar Association, Trust and Probate Section Council
Member, Allegheny County Bar Association, Elder Law Committee
Member, Pennsylvania Par Association Elder Law Committee
Member, University of Pittsburgh Council on Aging
LAWRENCE A.
FROLIK
Professor of Law
University of Pittsburgh
School of Law
Pittsburgh, Pennsylvania 15260
Recent experience includes:
1975 – 2009
University of Pittsburgh School of Law
1975 – Assistant Professor of Law
1978 – Associate Professor of Law
1981 – Professor of Law
1972-75 Attorney, Lourie & Cutler, Boston, MA
1977 (Summer) Visiting Assistant Professor of Law, West Virginia University College of Law
1978 Visiting Associate Professor of Law, University of Illinois College of Law
2000-2004 Visiting Professor, University of Miami Law School Graduate Program in Estate Planning
Other Experience
1969-71 Captain, U.S. Army; 2nd Division Artillery, Korea
1980-81 Consultant on Issues in Guardianship, Pennsylvania Developmental Disabilities Council
1984-87 Consultant, Pennsylvania Joint Legislative Advisory Subcommittee on Guardianship Reform
1985-86 Consultant, American Association of Retired Persons, Elderly Hotline Project
1988 Participant, Johnson Foundation/ABA Wingspread Guardianship Conference
1989 Consultant, Wisconsin Supreme Judicial Council Guardianship Reform
1992 Lecturer, Louisiana Judicial College
1993 ABA Senior Lawyers, Task Force on Guardianship Reform
1993 95 Participant, Gruter Institute Conference, Biology and the Law
1996 2000 Director, Gruter Institute, Law, Biology and Human Behavior Annual Squaw Valley Conference
1997- 2002 Director, Pittsburgh Office, Gruter Institute for Law and Behavioral Research
1998 – 2000 Chair, Planning and Programming Committee, Gruter Institute for Law and Behavioral Research
1999-  Member, Treasurer (2005- ) Board of Directors, The Kendal Corporation,
(Affiliated with Society of Friends (Quakers) Parent Corporation for Continuing Care Retirement Communities)
1999- Member, The Borchard Foundation Center on Law & Aging, Academic Advisory Board
2001 – 2003 Chair, Pennsylvania Bar Association Elder Law Section
2001 – 2006 Member, American Bar Association Bioethics Committee
2002 – Trustee, The Family Trust (ARC created pooled trust for disabled persons)
2002 – 2008 Pennsylvania AARP Executive Council, Member for Policy Issues
2002 – 2003 Chair, Seniors Issues Committee, American Bar Association Torts Trial and Insurance Practice Section
2003 – 2005 Member, Pennsylvania Council on Aging
2008 – Member, American Bar Association Senior Lawyers Division Council
2008 – Chair, Publications Committee, American Bar Association Senior Lawyers Division
2007 – Member, Emerging Issues Committee, American Bar Association Torts Trial and Insurance Practice Section
Articles
Surrogate Decision-Making Standards for Guardians:  Theory and Reality, (with Linda Whitton) U. of Pittsburgh Legal Studies Research Paper No. 2012-06.
Rethinking ERISAs Promise of Income Security in a World of 401(k) Plans, 20 Connecticut Insurance Law Journal 371 (2014).
How to Avoid Guardianship for Your Clients and Yourself!, 23 Experience 26 (2013)
Protecting Our Aging Retirees:  Converting 401 (K) Accounts into Federally Guaranteed Lifetime Annuities, 47 San Diego Law Review 277 (2010).
Core Values in Conflict: The United States Approach to Economic Assistance to the Elderly, 1 Phoenix Law Review 325 (2008).
An Essay on the Need for Subsidized Mandatory Long-Term Care Insurance, 21 Notre Dame Journal of Law, Ethics & Public Policy 517 (2007).
Is a Guardian the Alter Ego of the Ward?, 37 Stetson Law Review 53 (2007).
The Challenges of Estate Planning With a Very Old Client, 34 Est. Plan. 3 (May 2007).
Issues Facing Elderly Americans, American Association for Justice (Feb. 2007).
'Sufficient' Capacity: The Contrasting Capacity Requirements For Different Documents, (with Mary F. Radford) 2 NAELA Journal 303 (2006).
Paying for Long-Term Care, 17 Experience 35 (ABA Senior Lawyers Division, Fall 2006).
'Old Age with Fears and Ills': Planning for the Very Old Client, 38th Annual University of Miami Philip E. Heckerling Institute on Estate Planning (2004).
Assuring Quality Nursing Home Care: A Case of Market Failure, 9 Ethics, L. & Aging Rev. 43 (2003).
Housing Choices and Older Clients:  Dealing with Issues of Identity and Quality of Life, 24 Pennsylvania Lawyer 26 (Nov/Dec 2002).
The Clients Desire to Age in Place:  Our Role as Elder Law Attorneys, NAELA Quarterly (Summer 2002).
Promoting Judicial Acceptance and Use of Limited Guardianship, 31 Stetson Law Review 735 (2002).
The Developing Field of Elder Law Redux:  Ten Years after, 10 University of Illinois Elder Law Journal 1 (2002).
Insurance Fraud on the Elderly, 37 Trial 48 (June 2001).
Nursing Home Litigation: The Good, the Bad and the Ugly, 7 Ethics, Law, and Aging Review 117 (2001).
The Strange Interplay of Testamentary Capacity and the Doctrine of Undue Influence:  Are We Protecting Older Testators or Overriding Individual Preferences?, 24 International Journal of Law and Psychiatry 253 (2001).
Estate Planning for United States Clients Who Own Property Abroad, 13 NAELA Quarterly 21 (2000).

 
Practice Areas
Estate Planning
Trusts
Elder Law
Federal Tax Policy
State and Local Finance and Taxation
Recent Publications
BOOKS:
Residence Options for the Elderly or Disabled Client (ABA 2008)
The Law of Later-Life Health Care and Decision Making, (ABA 2006)
Law of Employee Pension and Welfare Benefits, 2d ed.  LexisNexis (co-author Kathryn Moore) (2008)
Law of Employee Pension and Welfare Benefits Teachers Manual, LexisNexis (co-author Kathryn Moore) (2008).
Law of Employee Pension and Welfare Benefits Statutory Supplement,LexisNexis (co-author Kathryn Moore) (2007).
Aging and the Law Reader, editor, Temple University Press (1999)
Residential Options for Older or Disabled Clients, ABA (2007).
Counseling the Older Client, American Law Institute-American Bar Association (co-authors, Barnes & Whitman) (1997).
Elder Law in a Nutshell, 4th  edition, West (co-author, Richard Kaplan) (2006).
Advising the Elderly or Disabled Client, 2nd edition, Warren, Gorham & Lamont (co-author Melissa Brown) (1999 plus semi-annual supplements).
Elder Law:  Cases and Materials, 4th edition LexisNexis (2007)(co-author Alison Barnes)
Elder Law:  Selected Statutes and Regulations, LexisNexis (2007) (co-author, Alison Barnes).
Teachers Manual for Elder Law:  Cases and Materials, 3rd edition LexisNexis (2007) (co-author Alison Barnes).
Presentations
Guardianship Decision Making in Theory and Practice, July 24, 2011, Southeastern Association of Law Schools Annual Meeting, Hilton Head, South Carolina.
Guardianship Decision Making Under the UPC, Oct. 20-21, 2011, ACTEC Conference.
Review of the Uniform Probate Code, Univ. of Michigan Law School, Ann Arbor, Michigan.
Guardianship: Vulnerability & Protection versus Autonomy & Independence, Oct. 22, 2011, and Aging in the United States: The Next Civil Rights Movement, Beasley School of Law, Temple Univ., Philadelphia, Pennsylvania.
Foundations of Guardianship Decision Making, Jan. 6, 2012, AALS Annual Meeting, Washington, D.C..
The Doctrinal Dimensions of Elder Law, Jan. 12, 2012, Univ. of Iowa College of Law, Iowa City.
End-of-Life Decision Making: Informed Consent Has Become Family Consent, March 25, 2012, Columbia Univ. Seminar Conference on Death New York, New York.
Update on Guardianship, June 24, 2012, ACTEC Annual Summer Meeting, Atlanta, Georgia.
Guardianship Decision Making, Oct. 14, 2012.
Participant, Speaker, and Voting Delegate at National Guardianship Reform Conference, Univ. of Utah College of Law, Salt Lake City, Utah.
Dealing with the Partially Incapacitated Client: How to Prevent Financial Abuse, Undue Influence and Other Ills of Aging, December 14, 2012, Hawaii Bar Association, Honolulu, Hawaii.
Update on Estate and Elder Law Issues, Feb. 25, 2012, Pennsylvania Academy of Elder Law Attorneys, Bedford Springs, Pennsylvania.